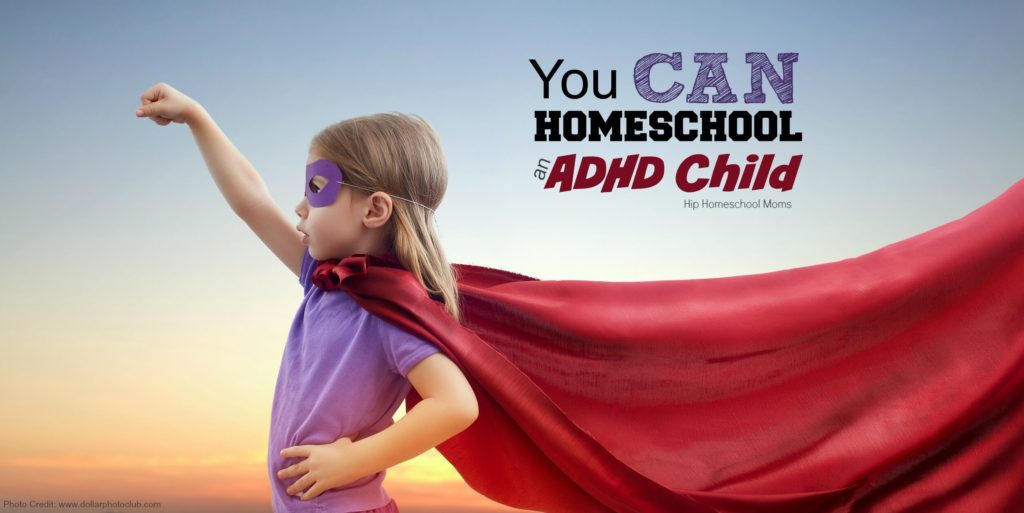 According to the Learning Disabilities Association of America Attention Deficit Disorder/Attention Deficit Hyperactivity Disorder is not considered a learning disability.  But the reality is that many students who have ADD/ADHD have other associated issues which do hinder their ability to learn according to the traditional education plan that exists in most public schools.  Even without additional learning disabilities students with ADD/ADHD and their teachers often need adaptive strategies to make learning less difficult.
Three of the issues that teachers, and this includes homeschooling parents/teachers, have to deal with in students with ADD/ADHD are:
Distractibility.  Students with ADHD find it difficult to concentrate on any one subject for extended periods of time.  One way parents/teachers can deal with this is to keep lessons short.  Help the student to break down larger tasks into a series of smaller tasks.  Math is one of those large tasks that lends itself to being divided into more manageable pieces.  Instead of instructing the student to "do their math" it would benefit both the teacher and the student to have a short term goal of completing the instructional portion of the math assignment then taking a break.  After a short break allow the student to refocus and complete a small number of math problems.
In a homeschooling environment it is possible to control the environment for the student.  There are not 30 other students who contribute to the distraction.  Noise can be controlled in the home.  Additionally, homeschooling is very flexible and this helps homeschooled ADHD students spend more time, or less, on a subject depending on their needs.
Hyperactivity.  ADHD students sometimes seem like they are "driven" to be in constant motion.  This can be difficult to deal with in a traditional classroom setting.  For the home educator it is easier because the student's motion does not disturb anyone else. If the student needs to hop around the room on one foot while reciting the multiplication tables then allow it.  Sometimes the act of moving and learning at the same time can be a very useful tool because it allows the student to both burn off excess energy and commit things to memory.
There are several techniques that can be used to help your ADHD student drain off excess energy.  One family allowed their student to use an exercise ball as a seat instead of a chair.  The student was allowed to gently bounce on the ball, or rock back and forth on it.  Even when sitting relatively still the student still needed to make minor balance adjustments and that allowed him to use some of the excess energy.
Another thing to do is to keep the student's hands busy.  Conventional wisdom says that the student is not paying attention if she is doodling or using modeling clay but the reality is that ADHD students seem to be able to do more than one thing at a time, and even benefit from being allowed to do more than one thing at a time.
Easily Frustrated.  ADHD students seem to become easily frustrated.  They often do not like repetitive lessons, reading lessons, or lessons that require a lot of writing.  Remember that ADHD is not considered a specific learning disability.  However, ADHD students do tend to learn differently.  Their brains tend to process things very quickly and so repetitive lessons seem like a waste of time.  Reading requires doing only one thing at a time (reading) and comprehension tends to be reduced if the student is distracted.  As for the ADHD student disliking writing, many ADHD students have poor handwriting and are frustrated by the speed at which ideas in their heads can be translated to paper.
Part of the way to get around this frustration is to allow the student to use adaptive technologies, and these can be easily accommodated in a homeschool environment.  Instead of having the student actually read a book allow her to listen to an audio book.  This allows the student to focus on the story with their ears while doing something else with their hands, or jumping up and down.  Teach keyboarding skills early because it is easier for a student to get the ideas out of their heads and onto paper if they can process that information at the speed of typing as opposed to writing.
As for repetitive lessons such as spelling, instead of having the student practice spelling words all week and take a test at the end of the week, why not let the student take the test first?  Then have the student work only on the words that he was unable to spell.  It makes for less repetition, and allows the student to process the lessons in shorter bursts.
Finally, allow students to work at a pace that is adapted for their learning abilities rather than trying to make the student adapt to traditional lesson plans.  Use technology where possible.  Online curricula allow the student to have some control over the rate at which information is presented.  Homeschooling ADHD students works well because it allows for learning to occur on their terms instead of trying to make the ADHD student adapt to an education model that is a poor fit for them.
Linda is a writer and homeschooling parent of one ADHD child.  They use an online core curriculum, Time4Learning, listen to a lot of audio books, and use educational games at Learning Games for Kids to improve keyboarding skills.